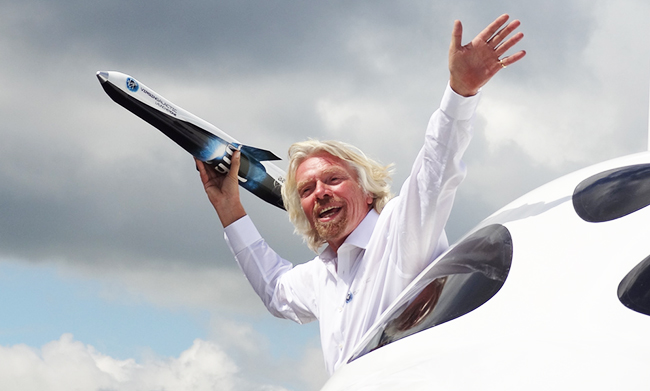 There aren't many organizations where the leader is just as famous as the brand itself. Sir Richard Branson, the Founder of Virgin Group, a collection of more than 400 companies, the most notable of which: Virgin Records, Virgin Mobile, Virgin Atlantic and Virgin America, has created an energy and excitement around the Virgin Brand that is unparalleled. Virgin Group has created more billion-dollar companies in more sectors than any other company.
Brand Parallels
Although the thought of having over 400 companies under a single brand may sound overwhelming, Branson explains, "Contrary to appearances, Virgin is focused: Our customers and investors relate to us more as an idea or philosophy than as a company. We offer the Virgin experience, and make sure it is consistent across all sectors. It's all about the brand."
Branson's Vision
One of the reasons why Virgin Group is so successful is because Branson and his team have a clear vision of their brand, their culture and their core mission. Branson notes, "I think people see the virgin brand as not taking itself too seriously, it's a fun brand, an adventurous brand, it generally offers great quality at great value, it's a people brand." If everyone in your organization isn't on the same page concerning your brand and the direction you want to go, it can be detrimental to your organization at large.
The Virgin Experience
"The Virgin experience" is alive in everything Virgin does, whether it's a commercial for Virgin Mobile, events happening at Virgin Mobile FreeFest or even goals Sir Richard Branson sets for himself.
A large part of the Virgin brand is their commitment to facilitating giving through their companies and through new initiatives. Branson spends 80% of his time on non-profit ventures. One expression of this attitude of giving manifests itself in Virgin Mobile FreeFest.
Every year Virgin Mobile Free Fest is held at Merriweather Post Pavilion in Columbia, MD and it is completely free to attend (assuming that you can snag a free ticket before they "free" out). Instead of charging $50+ for a ticket (which with their big name artists, Virgin could definitely do), Virgin focuses on donations and charitable works such as the Sasha Bruce RE*Generation house in DC. Last year, attendees could sign up to put together care packages or spend a day doing work at the Re*Generation house in order to upgrade to a VIP ticket at FreeFest. All contributions go directly to youth homelessness.
By putting effort into causes that their audience truly cares about, Virgin Mobile is seen as more than just a conglomerate, they do something meaningful. To their audience, this organization matters.
In addition to giving, Virgin's audience also cares about having fun and exciting experiences; with Virgin, there's no shortage of that.
Branson's Appeal
In addition to building interesting companies, how did Richard Branson become as famous as his brand? It could be in part because of the risky and alluring world attempts Branson sets out to do. Whether he's attempting to break the trans-Atlantic sailing record or fly around the globe in a hot air balloon, Branson is a brand within himself. Adventure, risk, excitement and fun. These are all adjectives that describe both Branson and Virgin. The two brands are parallel.
The Leader's Role
Branson understands that a company is no more than a group of people and he operates with that in mind. Branson said, "The most important thing about running a company is to remember all the time what a company is. A company is simply a group of people. As a leader of people, you have to be a great listener, a great motivator, very good at praising and looking for the best in people. People are no different from flowers. If you water flowers they flourish, if you praise people they flourish, and that's a critical attribute of a leader."
For Branson, Virgin isn't just a company, it's a lifestyle. As such a large part of the Virgin brand, Branson repeatedly reinstates the brand's core values and culture through interviews, articles and every piece of brand messaging that is conveyed to the public.
Your Brand
As a brand leader, Branson knows that a large part of success it is having a clear vision, direction and mission. He also understands the idea that doing meaningful things that your audience cares about builds the relationship between your brand and your audience.
Do you know what makes your organization different or better than your competitors? Do you have a core mission and set company values? Do your employees describe your company culture in the same way? Do you know your audience and what is meaningful to them? If not, everyone in your organization may not be on the same page and you may not be actively building brand trust. Learn more about our branding services and why success comes to those who dare to be different.
Image via Hardo on flickr
Comments
comments